Summarize
Digital Satellite Receiver & Exchange acts to statistically analyze,receive and exchange the 18 ports digital satellite TS/ASI input signals, then multiplex as 3 ports ASI outputs to core server. It is a professional product centralizing the functions of Satellite receiver, ASI input processor, statistical multiplexer and ASI output processor.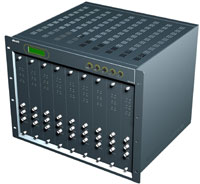 Function
Conform to DVB-S/MPEG-2 standard.
18 ports TS signal or ASI signal input.
3 ASI output.
Particular arithmetic to realize high-precision PCR.
SCPC/MCPC, C/KU-band compatible;TUNER real-time analyzes.
SMP (Symmetric Multi-Processor), include 26 high-performances DSP, with total computation ability up to 2.6 billion /s.
Adopting particular ASIC to analyze and process and enhance the performance of the produce greatly.
Standard integrative 8u industry frame; Standard double backup power supply (1+1).
Intelligent environmental monitoring system, including parameter of voltage, temperature and so on.
SNMP v3 network administration; Particular IDOG (intelligent DOG) that makes the produce to be more secure.
Technical parameters
tuner

input frequency

950

~

2150MHz

output frequency

950

~

2150MHz

input level

-

65

~-

25dBm

input impedance

75Ω

LNB power supply

13V/18V auto-switch

demodulation

QPSK

FEC rate

1/2

,

2/3

,

3/4

,

5/6

,

7/8 automatically

RS

Error Correction

204

,

188

,

T=8

roll-off

coefficient

0.35/0.2

symbol-rate

2.0

~

45Mbps

multiplexer

standard

ISO/IEC 13818

-

1

maximum input bit-rate

1200Mbps

(

serial / 150Mbps

(

parallel

)

maximum output bit-rate

210Mbps

interface

input

20 digital satellite signal/ 18 ASI

output

5 ports or 5 ports ASI

communication interface

10M/100M Ethernet

power supply

input voltage

AC110

~

240V

,

50/60Hz

power consume

120W

others

operation temperature

-

10℃

~

60℃

size

8U height

weight

20 Kg

mechanical

fix method

board, 19 inches of standard frameworks

Externality structure

8U height