Summarize
The IVM network media server series adopt professional mpeg2/4, Full D1 real-time hardware compress and decompress processor to realize 8 ports real-time A/V encoding/decoding at the same time. The server adopt Ethernet and SDH private network to realize the transportation on LAN or WAN multimedia stream. It support TCP/IP and RTP/RTCP protocol, accord with SNMP V3 and realize long-distance network administration. This product totally conforms with professional IP data switch business in broadcasting and video conference.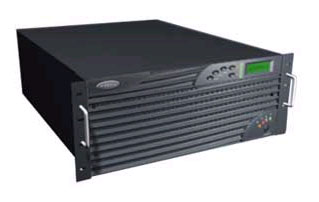 Function
Special-purpose industrialized embed host computer, the CPU frequency is up to above 1G.
Standard embedded Linux platform and 8 ports real-time encoding/decoding hardware platform.
Support MPEG2/4 (Full_D1) standard, PAL/NTSC standard and transport stream of DVB standard.
Standard RTP/RTCP; Support SNMP v3
Standard YUV, CVBS and Y/C video interface, balance/unbalance audio interface.
Standard ASI interface and 1G Ethernet/OC3 SDH optical fiber interface.
Special-purpose industrialization frame; Friendly man-machine operation interface;
Double backup redundant power supply and intelligentized environmental monitoring system (voltage, temperature, etc.)
Technical parameters
technical index

video compress format

MPEG2/4

audio compress format

MP2,MP3

mage format

PAL/NTSC

Image Resolution

Full D1

R

espond time

≤3s

average bit rate

2

2.5k~15Mbps

communicate index

network interface

RJ45

,

OC3

network type

Ethernet, SDH backbone network

network protocol

RTP/RTCP,TCP/IP

,

SNMP, HTTP

fram rate

29.97f/s(NTSC)

,

25f/s(PAL)

video/audio index

video input

Y.U.V,RGB,CVBS,Y/C

video output

Y.U.V,RGB,CVBS,Y/C

audio input

balance/unbalance

,

R+L

environment index

temperature

-

10 ºC~ 60 ºC

humidity

< 95%

electric index

voltage

AC220v 10

%

power

120W

mechanical index

fix method

board, 19 inches of standard frameworks

Externality structure

4Uheight