Summarize
The IVS series core super server is the key equipment of the business platform for the Head-end broadcast system in the new generation digital broadcast interaction system. It centralize the functions of IP switch unit, network processor unit, transport stream de-multiplexing, transport stream statistical multiplexing, transport stream interference, broadband video service, storage area network(SAN) and QAM modulation. The server handle the media information come from the broadcast network, the computer network, Telecommunications network in the matrix multi-MPU by soft switch, then output though Ethernet, SDH network, ASI (asynchronous serial interface) or IF (intermediate frequency) interface (QAM modulated) to realize video broadcasting and interactive, streaming media broadcast and interactive.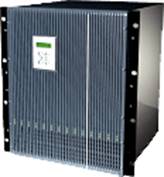 Function
Switching and processing data information come from various kinds of network correspondingly, then output in transport stream, IP data stream or intermediate frequency signal by QAM modulated.
Supports up to 512Mbps code rate output by single server.
Supports maximum 128 SPTS (single program transport stream) or MPTS (multiple programs transport stream) multiplex and re-multiplex output by single server.
Centralize the functions of 8 port TS de-multiplexing, 8 ports TS statistical multiplexing, 8 port TS interference and 8 port QAM modulation.
Supports business channel of 2 ports Giga bit Ethernet, 1 port OC3 network interface and management channel of 1 port mega bit Ethernet interface.
Local storage capacity of 1-2T.
Supports RTP/RTPC streaming media switch to realize TS over IP, IP over TS and IP over SDH.
Accord with DVB common scrambling algorithm totally, support DVB SimulCrypt standard to put DVB scrambling on the designated program or basic transport stream.
Support MPEG4 standard and HDTV standard in the future.
Supports the SNMP (simple network management protocol), provides the network management configuration, the state surveillance and the exception handling and so on;
Multi-MPU matrix processor unit with total process ability more than 30 billion times.
Implement advanced broadcast controlling with autoimmunization and intelligent management.