Cable Modem:
Vecast provides a full series of cable modem, including dual mode data, VoIP and wireless cable modems that complied with both Docsis and EuroDocsis 1.0/1.1/2.0 standard. Currently, Vecast cable modem products can be seen in over 50 cities in China.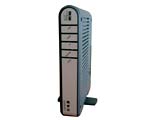 CM-802D USB/Ethernet Cable Modem complies with MCNS DOCSIS 1.0 / 1.1 / 2.0 standard and EURO DOCSIS 1.0 / 1.1 / 2.0 standard, a single chip (Plug-N-Play,P-N-P)Cable Modem, providing up to 30Mbps upstram data rate. With USB1.1 interface, user needs not to worry about NIC card installation. Just plug-in to the USB interface on PC and enjoy the broadband service.
Ultra fast data communication. Up to 42Mbps download and up to 30Mbps upload speed make your Internet exploring, video conferencing, and file transferring easier and more comfortable.
10/100Base-T Ethernet port. Easy connection to another PC or HUB; with only HUB(s), you can easily extend your connection up to 32PCs.
SNMP Network Management. Remote network management makes customer service easier and faster.